Accommodation, Campings dans l'Ariège
Add to my travel notebook
Register your touristic spot dans l'Ariège it's free (in French)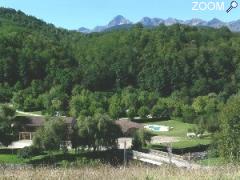 TVORG-3849
Update informations







Disponibilités
Réginald, Malek
Route d'AULUS LES BAINS
09140 Oust (Ariège)
http://www.camping4saisons.com
Camp-site in the Pyrenees OUST. The Camp-site the 4 seasons accomodates you in a family atmosphere. Hiring of Mobilhomes, lodgings, hotel rooms for a lodging of quality.

Located at 17 km of St Girons, to 500 m of altitude on more than 3 hectares, this tourist complex offers the choice of your holidays to you : in campsite, in mobil-home, in lodging and with the hôtel.

In the framework of greenery and landscapes of mointain, the 4 seasons accomodates you all the year. The complex is at 200 m of the village of OUST where all the trade are.
Register your touristic spot dans l'Ariège it's free (in French)