Art and craft, Art, Craft and Gallery dans l'Ariège
Arts and Crafts

Meeting with fascinated craftsmen and artists talented height. They express their know-how through unique works according to their imagination and to their inspiration. For the public, the result is always a pleasant surprise... Only for the pleasure of your eyes!
Register your touristic spot dans l'Ariège it's free (in French)
Marie-Angèle MOULINS
52 bis avenue du Dr Bernadac (route de Bélesta)
09300 Lavelanet (Ariège)
welcom

RENARD Thierry
Laffitte
09290 Camarade (Ariège)

Jean-Marc Seguin et Marc Kniebihler
Peyruc
09420 Clermont (Ariège)
Phone : 05 61 66 91 85
- Fax : 05 61 66 91 85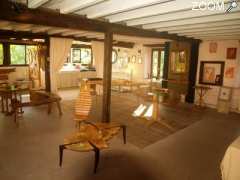 Fusion'arts
Peyruc
09420 Clermont (Ariège)
Workshops Clermont are a showcase of local crafts, where visitors greeted by one of the creators go to explore different worlds and know-how.

Jean-Paul TISSEYRE
1 rue Jean-Jacques Rousseau
09600 La Bastide-sur-l'Hers (Ariège)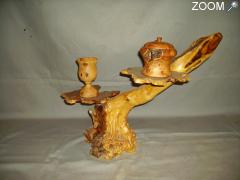 CLEMENT
PEYRUC
09420 Clermont (Ariège)
Phone : 05 61 04 48 67
- Mobile phone : 06 80 56 25 68
Je crée des objets d'Art en bois (essences diverses) tables,lampes,trophés sportifs,boites....je travaille sur commande,mes pièces sont uniques

LAPOUJADE Catherine
lacoste
09100 Saint-Victor-Rouzaud (Ariège)
Phone : 09 75 98 50 14
- Mobile phone : 06 81 02 03 26

Register your touristic spot dans l'Ariège it's free (in French)