Art and craft, Factory visit in Midi Pyrénées
Visits of factories

On the meeting of the craftsmen on their workplace. Of the factory of stained glasses in the tanning by way of a foundry or even a brewery, drill the secrets of the manufacturing
Register your touristic spot in Midi Pyrénées it's free (in French)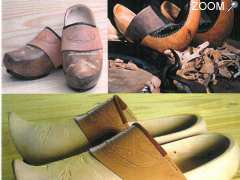 JUSOT Pascal
Aret-en-Bethmale
09800 Arrien-en-Bethmale (Ariège)
Installed in the Valley of offering I perpetuated the traditions of manufacturing of the offering HOOFS, hooves to the long point tapered.
I also manufactures clogs local wooden garden and hoofs of ... Médicuir France
En belaval
81500 Lacougotte-Cadoul (Tarn)
Phone : 09 77 02 42 97
- Fax : 05 63 58 77 93
Maroquinerie artisanale, située sur les hauteurs de Lavaur au coeur du pays de Cocagne, non loin de la voie romaine, dans les dépendance d'un chateau de l'époque cathare.
Maroquinerie ...

Register your touristic spot in Midi Pyrénées it's free (in French)