Heritage, visit, Religious heritage dans le Tarn
Religious Heritage

Abbeys in basilicas by way of chapels or cathedrals, a wide choice of visits and déouvertes offers itself to you. That you are an amateur of the sobriety of the Romanesque art or the magnificence of the Gothic art, you will be enchanted to visit the numerous present buildings on all the French territory.



Register your touristic spot dans le Tarn it's free (in French)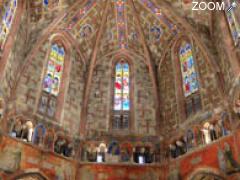 OT du Pays rabastinois
12 rue du Pont del Pâ
81800 Rabastens (Tarn)
Phone : 05 63 33 56 90
- Fax : 05 63 33 56 90
Première église construite au 13è s par les moines bénédictins de l'Abbaye de Moissac dans la région suivant le style gothique méridional, elle conserve un magnifique portail orné de huit ...

Register your touristic spot dans le Tarn it's free (in French)