Heritage, visit, Museum dans le Tarn
Add to my travel notebook
Register your touristic spot dans le Tarn it's free (in French)
See accommodation nearby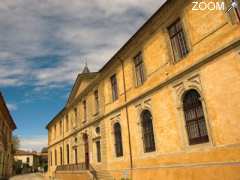 TVORG-754191
Update informations
entry of 5 to 7 €

Enter child of 0 to 5 €



Disponibilités
Virginie PETIT/Marie LE COZ
1 bis, Rue Saint Martin
81540 Sorèze (Tarn)
Phone : 05 63 50 86 38
- Fax : 05 63 50 86 00
http://www.abbayeecoledesoreze.com
http://www.facebook.com/Abbayeecoledesoreze
Benedictine Abbey was founded in 754 at the foot of the Black Mountain. Throughout its history, the Abbey has undergone numerous changes : a seminary, a Royal Military School under the reign of Louis XVI, and then , under the director ship of Father Lacordaire, a famous and internationally well known school. Military, writers, philosophers and politicians were trained there, until its closure in 1991.
Since 1993, the joint trade union has renovated this classified historic building and has been the subject of an ambitious project for the development of tourism and culture.
The Sorèze Abbey-School is recognized as a pole of excellence and listed among the major attractions in Midi-Pyrénées.
RENTAL SPACES/Function rooms for hire
The Dining Hall of the fathers', the Blue Lounge, the Auditorium, the Abbatial, the Red Dining Hall, are offered for seminars, conferences and private events.

VISITS
-With an audioguide or on your own, every day within the Abbey's opening hours.
- Guided visit on reservation for groups over 15 visitors.
CULTURAL EVENTS
- Festival "Musique des Lumières", held annually in july under the artistic direction of Joël SUHUBIETTE.
- Art exhibitions : historic and contemporary related and linked to the fine arts of the school.
- Conferences
PARTNERS IN SITU
- Two hotels 2 ** and 3 ***
- A gourmet restaurant
- The Pierre Fabre pharmaceutical training center
- Craft shops.

Register your touristic spot dans le Tarn it's free (in French)