Sport and leisure, Nautic sports en Haute-Garonne
Add to my travel notebook
Register your touristic spot en Haute-Garonne it's free (in French)
See accommodation nearby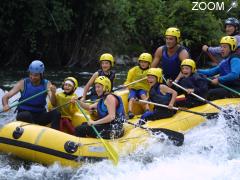 TVORG-5082
Update informations



Disponibilités
GARNIER Paul
Chemin de Poy
31110 Antignac (Haute-Garonne)
Phone : 05 61 79 19 20
- Fax : 05 61 79 60 81
http://www.base-antignac.com
In the South of the Haute-Garonne, in the heart of Pyrenees, at 1 of Toulouse and Tarbes,

ANTIGNAC rafting proposes you TWO BASES, one in valley of Luchon and one on the valley of the Garonne, possessing the LABEL NATURAL CANOE FFCK.
You will find
- 3 ATMOSPHERES: DISCOVERED RUNNING, SPORTS WATER, STROLL
- 6 ACTIVITIES: rafting, canoes and kayaks inflatable or traditional, hydrospeed
- 8 COURSES on 70 km of rivers in France and in Spain.

For all these activities, you can take time of the control (master's degree) and the game(set,play), until the unforgettable surfings in rollers.

Only, between friends or in family, curious or loving beginner of the strong sensations everything is possible for all.

Register your touristic spot en Haute-Garonne it's free (in French)