Accommodation, Self catering Lot-et-Garonne
Add to my travel notebook
Register your touristic spot Lot-et-Garonne it's free (in French)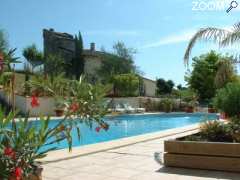 TVORG-732061
Update informations
Low season of 245€ to 399€

Average season of 399€ to 630€

High season of 595€ to 1050€
Disponibilités
Philippe Roose
Lieudit Espeye
47270 Saint-Urcisse (Lot-et-Garonne)
http://espeye.fr
In "the Tuscany of France ', near the village of Puymirol in the south of France, on the border of the Lot et Garonne and Tarn et Garonne, lies the 21ha property' called Espeye. The area is great for nice excursions, to explore the area, endless walking and cycling.
There is so much to see and do, and so much variety from one area to another, you certainly will not be bored here. The rivers Lot, Garonne and Bear, provide lots of water fun in the form of swimming, fishing, canoeing and kayaking.
The rolling landscape provides excellent opportunities for hiking on the 150 well-marked hiking trails or hike along the old pilgrim route to Santiago de Compostela.
3000 years of history has left its mark in the form of caves (at Hautefage-la-Tour, Caves of Fontirou and Grotte de Les Tourelles), whose castles Bonaquil the head protrudes, traditional villages, each with its own festivities, bastides ( Monflanquin, Puymirol), churches (Vianne / Romanesque Church) and much more.
The many beautiful golf courses in the area will certainly be appreciated for golf enthusiasts and for children, a visit to the family park Walibi at Agen is certainly worth the trip.
In short, an ideal place for an unforgettable holiday!
We'd love to welcome you to come and enjoy the sun, the vast starry sky and the deafening silence.

Our vacation paradise includes 1 large building, split into 3 different gites, 8 pitches with adequate sanitary facilities and a beautiful large pool.

1. Large cottage (2-8 persons) with living / dining room and romantic fireplace, open kitchen complete with oven, fridge-freezer, dishwasher and washing machine, 3 bedrooms, 2 shower rooms.
2. The second cottage (2-5 persons) has a cozy living room, well equipped kitchen, two bedrooms, one with 2 beds and 1 with bunk beds and single bed. There is also a luxury bathroom with separate toilet.
3. The third (2 persons) cottage is equal to the second cottage, but has only 1 bedroom containing a double bed.

Together these gites offer space for 15 people.
Each cottage is completely separate and has its own entrance and a separate terrace with garden furniture and barbecue.
Register your touristic spot Lot-et-Garonne it's free (in French)