Accommodation, Bed and Breakfast dans l'Ariège
Add to my travel notebook
Register your touristic spot dans l'Ariège it's free (in French)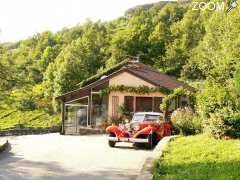 TVORG-10972
Update informations
low Season 56 €

Mid season 56 €

high Season 56 €

holiday 56 €

Restaurant menu 18 €



Disponibilités
CAVERNES
chemin de lambile
09110 Ignaux (Ariège)
Phone : 05 61 64 28 20
- Mobile phone : 06 82 84 21 62
http://www.le-sivarol.com
In the valleys of Ax near Ignaux discover a rare country. This authentic part of Ariège-Pyrénées, offers her mountain in winter and summer ...

Enjoy a cottage with private swimming pool, a house with large hosting capacity with spa and a terrace or a studio at the foot of the slopes in order to offer holidays in the mountains near Ax-les-Thermes and of different ski areas.

Take care of you with a fitness stay and experience the virtues of hot water AX, preserve your health during a stay in our guest rooms.

Didier and Cathy will enjoy to share their table with you. Enjoy yoghurt and homemade jams and regional cuisine rare of these mountains rich flavors...
Register your touristic spot dans l'Ariège it's free (in French)