Alloggiamenti, affitti , Camere in famiglia en Aveyron
Guest house

Practical and friendly, here is what summarizes the formula of guest houses. Whom you are only or in family, come to spend one or several nights at the inhabitant. It is as a friend that you will be welcomed by the host and the hostess who can make you discover the local specialities during the meals which will be proposed to you.
Iscrivere il vostro punto turistico en Aveyron é gratuito
Mme Guénaëlle Fairbrother Poizat
Limayrac
12240 Colombiès (Aveyron)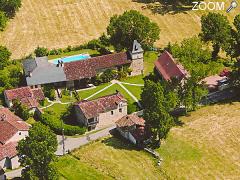 Bassa stagione 70€ a 80€

Media stagione 70€ a 80€

Alta stagione 70€ a 80€

Vacanze scolastiche 70€ a 80€

Ristorante Menu 12 a 18 €
Valérie et Emmanuel Pesso
Le Bruel, Tournhac
12700 Sonnac (Aveyron)
La Mélessens, welcomes you in Aveyron, in an old restored farmhouse in the countryside around V.franche de Rouergue. The area has beautiful landscapes: gorges and plateaux, medieval villages and ...

Marie-helene Couffin
Louradou
12270 La Fouillade (Aveyron)

Bachelet
Rigols
12360 Camarès (Aveyron)
Chambres et table d'hôtes
calme charme randos visites
chateaux menhirs abbaye de sylvanès
restaurant crêperie

Franck Palau
Chateau de Lugagnac, lieu dit Lugagnac, 12640 Rivière sur Tarn
12640 Rivière-sur-Tarn (Aveyron)
Bed & Breakfast in un castello del XIV secolo, parco, parcheggio, piscina, campi da tennis, table d ' hôte

Cathie Arguel
Hameau de Conclus
12520 Verrières (Aveyron)

Mme , M. Licht
Lauzeral
12270 Saint-André-de-Najac (Aveyron)
Tel : 05 65 29 45 09
- Cellulare : 06 03 50 75 54

GIANSILY
Chateau de Sorgues
12540 Cornus (Aveyron)
Dans l'Aveyron, pays d'émotions, au cœur du Parc Naturel Régional des Grands Causses, flirtant avec la route des Templiers et Hospitaliers du Larzac, se dresse l'imposante stature d'un ...

Iscrivere il vostro punto turistico en Aveyron é gratuito