Art and craft, Art, Craft and Gallery in Midi Pyrénées
Arts and Crafts

Meeting with fascinated craftsmen and artists talented height. They express their know-how through unique works according to their imagination and to their inspiration. For the public, the result is always a pleasant surprise... Only for the pleasure of your eyes!
Register your touristic spot in Midi Pyrénées it's free (in French)
LAPOUJADE Catherine
lacoste
09100 Saint-Victor-Rouzaud (Ariège)
Phone : 09 75 98 50 14
- Mobile phone : 06 81 02 03 26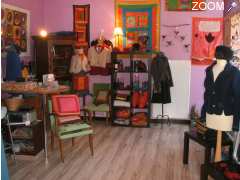 alexia delignière
2 rue andré fourcade
65000 Tarbes (Hautes-Pyrénées)
Phone : 06 17 57 27 48
- Mobile phone : 06 17 57 27 48
- course(price,courses) of embroidery of art and traditional in the needle and in the hook of lunéville for adults and children
- creation of accessories and jewels in unique(only) ...

Culié Odile
Soulègre
81260 Castelnau-de-Brassac (Tarn)
Workshop(Studio) of creation of cloth animals and marionettes. Visit by appointment. Pluisieurs selling points in France. Remote sale également.création to order, with the choice of the color. The ...

Marie-Angèle MOULINS
52 bis avenue du Dr Bernadac (route de Bélesta)
09300 Lavelanet (Ariège)
welcom

Register your touristic spot in Midi Pyrénées it's free (in French)