Accommodation, Holidays residences dans les Hautes-Pyrénées
Holidays residences

Holidays residences are the alliance of quality hostings in a multiplicity of the services. You will have access to numerous activities, sports, games, the whole in a festive atmosphere, you will have no time to annoy you. Everything is organized, of what to simplify your holidays! It is the formula completed for all the family.
2 dans les Hautes-Pyrénées.
Register your touristic spot dans les Hautes-Pyrénées it's free (in French)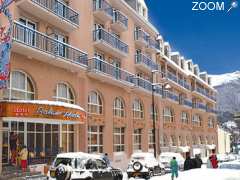 Résidence Aladin
11 Avenue du Général Leclerc
65110 Cauterets (Hautes-Pyrénées)
The hotel and the residence are situated right in the centre of Cauterets, 150 m from the thermal baths. With their 5 floors and lift, they form a truly modern complex.
- The bedrooms are all fitted ...

Résidence Soleil d'Aure
Rue des Coudères
65170 Saint-Lary-Soulan (Hautes-Pyrénées)
The Residence is situated in the village of Saint Lary, just a stone's throw from the cable car and the ancient centre.
The apartments, from a 2 roomed apartment for 4 up to the 4 roomed duplex ...

Register your touristic spot dans les Hautes-Pyrénées it's free (in French)