Sport and leisure, Adventure sports dans le Lot
Sports Adventures

For the thrill-seekers, the courses of acrobranche will be improved to flit between trees by borrowing monkeys' bridges and Tyroliennes. Circuits full of emotions in full forest, do not hesitate to try! Interactive and rich in emotions, plunge you into a full-scale role-playing with the paintball. A course in forest where tactical sense and mind of team are essential.
Register your touristic spot dans le Lot it's free (in French)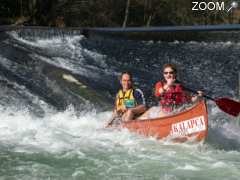 Sabine Raffy
Conduché
46330 Bouziès (Lot)
Kalapca Leisure is an open-air activity centre; canoes and kayaks, climbing, caving, adventure courses, canyoning, mountain biking, and rambling can be done for a discovery day or for a course of ...

Register your touristic spot dans le Lot it's free (in French)