Sport and leisure, Adventure sports dans le Lot
Add to my travel notebook
Register your touristic spot dans le Lot it's free (in French)
See accommodation nearby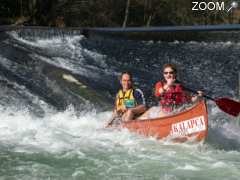 TVORG-11622
Update informations


Disponibilités
Sabine Raffy
Conduché
46330 Bouziès (Lot)
http://www.kalapca.com
Kalapca Leisure is an open-air activity centre; canoes and kayaks, climbing, caving, adventure courses, canyoning, mountain biking, and rambling can be done for a discovery day or for a course of training.

In the heart of the Parc Régional des Causses du Quercy and near to 4 famous sites in the Midi-Pyrénées - St. Cirq Lapopie, Figeac, Rocamadour and Cahors - Kalapca leisure offers you an experience that is both active and cultural in this area which is famous for the richness of its heritage.

Come and share some great times with us, surrounded by nature !

Register your touristic spot dans le Lot it's free (in French)