Heritage, visit, Wildlife / Leisure center en Haute-Garonne
Add to my travel notebook
Register your touristic spot en Haute-Garonne it's free (in French)
See accommodation nearby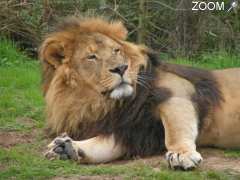 TVORG-8414
Update informations
Low season of 12.5€ to 16.5€

Average season of 12.5€ to 16.5€

High season of 12.5€ to 16.5€

School holidays of 12.5€ to 16.5€

High season of 12.5€ to 16.5€

Average season of 12.5€ to 16.5€

Low season of 12.5€ to 16.5€

School holidays of 12.5€ to 16.5€




Disponibilités
Patricia TONIUTTI
41 rue des Landes
31830 Plaisance-du-Touch (Haute-Garonne)
Phone : 05 61 86 45 03
- Fax : 05 61 06 70 18
http://www.zoo-africansafari.com
https://www.facebook.com/pages/Zoo-African-Safari/113326235425369
Zoo African Safari

Just 20 minutes from Toulouse, Plaisance du Touch, the African Safari Zoo invites you to discover 600 wild animals from 80 species , some of which are endangered .

Program for visitors : fun and educational discovery of the African reserves ( at the wheel of his car ) and park at the foot shaded , shows sea lions and birds ( in season). An ideal outlet for children and family!

The park works to safeguard these species by participating in Breeding Programs and Europeans Studbooks ( EEP and ESB) .

On-site complimentary parking , a cafeteria with terrace, two picnic areas - outdoor and covered with mist , a playground , two shops.

For groups (minimum 20 people - in a professional capacity ) , several options are available to complement the visit: catering, halls , Christmas Tree .
Two areas and two reception rooms are available.

The park is open daily , year round . Contact: www.zoo - africansafari.com "
Register your touristic spot en Haute-Garonne it's free (in French)