Alloggiamenti, affitti , Camere in famiglia dans le Tarn
Guest house

Practical and friendly, here is what summarizes the formula of guest houses. Whom you are only or in family, come to spend one or several nights at the inhabitant. It is as a friend that you will be welcomed by the host and the hostess who can make you discover the local specialities during the meals which will be proposed to you.
Iscrivere il vostro punto turistico dans le Tarn é gratuito
renault
61 avenue du maréchal foch
81000 Albi (Tarn)
New su ALBI, gîte le Fabul'House urbane ** è a 5 minuti a piedi dal centro storico.
Possiamo ospitare fino a 15 persone nelle nostre 5 "sale". (prezzi da €25 a €60 /chambre)
Hai, con gli altri ...

jeambrun corinne
31 rue des jardins
81000 Albi (Tarn)
Tel : 05 63 47 22 24
- Cellulare : 06 73 02 24 50
Two nice and comfortable bedroom in one of the most beautiful house 1930 in Albi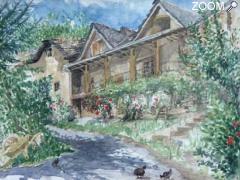 R. Marietta
La Borde
81340 Trébas (Tarn)
Tel : 05 63 55 91 42
- Fax : 05 63 55 85 87
Our small farm about fifteen hectares full south is situated in 300m of height in the valley of the Tarn, the region of standing hillsides of sweet chestnut trees, over the village of Trébas.

Iscrivere il vostro punto turistico dans le Tarn é gratuito