Art and craft, Art, Craft and Gallery in Midi Pyrénées
Arts and Crafts

Meeting with fascinated craftsmen and artists talented height. They express their know-how through unique works according to their imagination and to their inspiration. For the public, the result is always a pleasant surprise... Only for the pleasure of your eyes!
Register your touristic spot in Midi Pyrénées it's free (in French)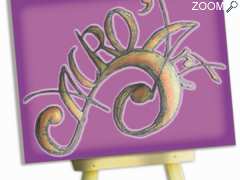 Audrey guion
40 rue Nationale
32110 Nogaro (Gers)
Phone : 05 62 08 30 78
- Mobile phone : 06 79 04 42 13
Workshop on Conservation and Restoration of works of art. Outlines of creative arts: bullfighting, floral and others. references to oil paintings, watercolors, photographs etc .... All rates are ...

Floriane AZAM
10 Rue du Moulin, 81600 Gaillac
81600 Gaillac (Tarn)
L'Arbre aux couleurs, the Tree of colors is proposing to decorate the bedroom of your kids.
You can find wall paintings and assorted hand painted furniture. The artist also proposes a lot of hand ...

Puel William
9 Rue de la Saunerie - 12100 Millau
12100 Millau (Aveyron)

Anne Bénézech
17 route du Vignal 12850 Sainte-radegonde
12850 Sainte-Radegonde (Aveyron)

Register your touristic spot in Midi Pyrénées it's free (in French)